How to Use Fiverr For Your Marketplace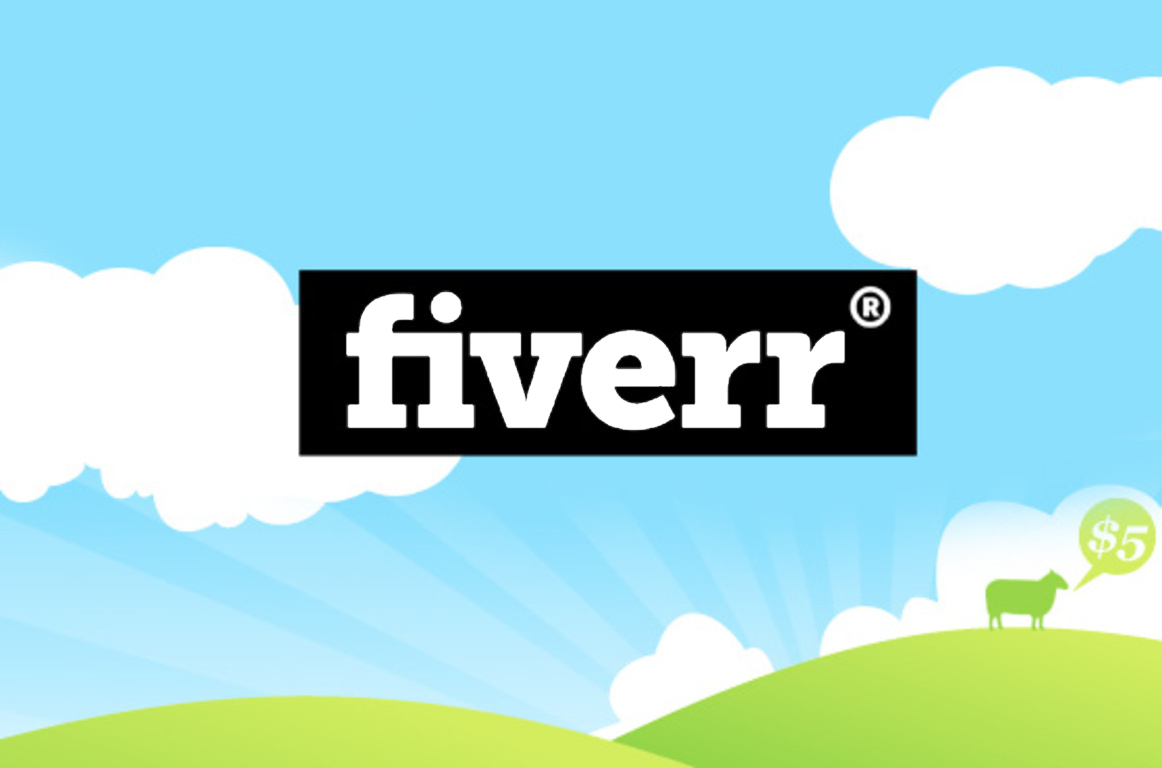 Just like the Marketplace we're helping you create, Fiverr is also an online marketplace that offers tasks and services. Pricing begins at $5 per job performed, which is the main reason behind the catchy name. Fiverr is a one-stop-shop for outsourcing professionally created materials for your website.  Fiverr is not associated with My Marketplace Builder, but we do highly recommend utilizing their services. This post will show you how easy it is to find gigs, hire someone for your business needs, and explain how to use Fiverr for your Marketplace.
Before you can book someone for a gig, you'll need to sign up for Fiverr, which is free. You can sign up with an existing email or social logins, allowing you to sign up with your Facebook or Google + account. Sign up here! (This is the same intake process for your Marketplace that we've built for you.)
Browsing Gigs
You can find services you need by browsing the Fiverr catalog in different categories or by using the search bar to find a specific service.


Let's say I'm looking for someone to create a graphic design or image promoting our exciting opportunity to present at Collision. I simply type in "graphic design" in the search bar, and many gig providers for graphic design appear.  You can refine the search results by filtering on the left side of the screen, selecting from the drop-down categories right under the search bar, or clicking on one of the related tags. The more refined your search is, the more narrow you can focus and the easier it is to find the right gig provider.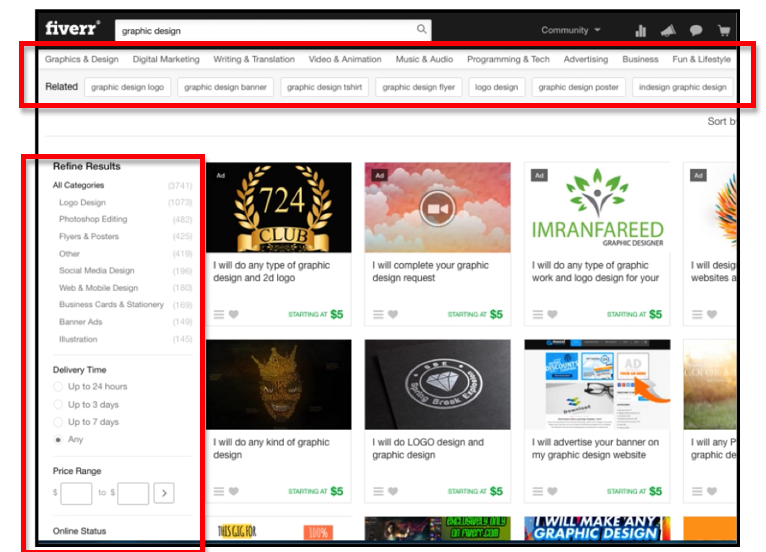 Hiring the Most Qualified Gig Provider
Chances are, you'll find a multitude of qualifying search results. Your next step is to pick the most qualified gig provider to hire. One way is by sorting your searches by "Avg. Customer Review". This will refine your search page to list the highest-rated gig providers first.



You can see individual gig provider ratings and the number of reviews by hovering your mouse over the gig or by clicking on it, which will take you to the gig provider's profile.

Once you're in the gig provider's profile, you can read through all their reviews by either clicking the number next to their star rating or by clicking on the "Reviews" tab at the top of their profile. You can also see what level of seller they are according to the badge on their profile. The example above shows that this gig provider is a Level 2 seller.  (These are all cool feature adds you may want to add to your Marketplace once you get as big as Fiverr. Metrics on them are that they've raised over $17M in investment money and bring in well over $1M in revenue monthly.)
While looking through profiles, you'll also notice that some gig providers offer different gig packages. The most basic package always starts at $5 (thus the name Fiverr). However, you have the option to pay for additional packages, which are called "gig extras".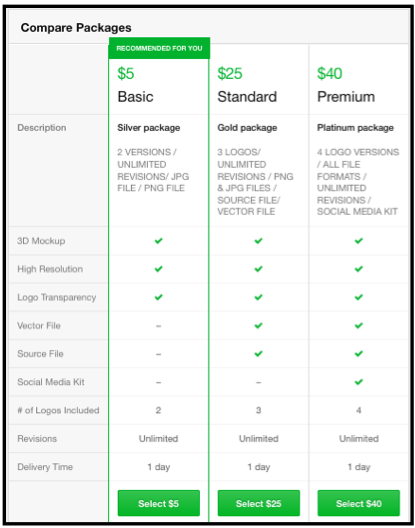 So, after reading through reviews and looking over some gig provider profiles, I've selected the most qualified candidate to create a graphic design or image for me. Now, it's time to book them!
Booking the Gig
To proceed with booking, you can either click on the "Proceed to Order" button in the top right corner or by clicking "Select" on the gig package option you want. You'll be redirected to your order summary, where you'll see a list from where you can select upgrade options. Click on "Proceed to Payment" once you're ready to checkout and fill in your credit card information.

You will then be prompted to fill out the gig requirements and instructions. This is where you should include information such as a description of what you're looking for, color/style preferences, text, fonts, examples, images attachments, etc. You'll want to be as detailed as possible, so the gig provider meets your expectations. Click on "Start Order" once you've completed filling out the order requirements.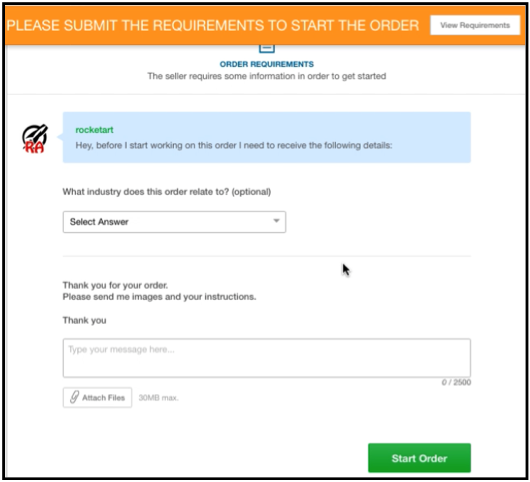 You'll see your order confirmation as well as the expected delivery date at the top of the page of your order. You'll also receive a receipt and confirmation from the gig provider at the email you provided during registration.


Receiving Your Order
Once your order is ready, you'll receive a notification via email. You'll click on "Review Order" to review your deliverables. You can view your deliverables through the preview window or by downloading the files under "Delivered Files".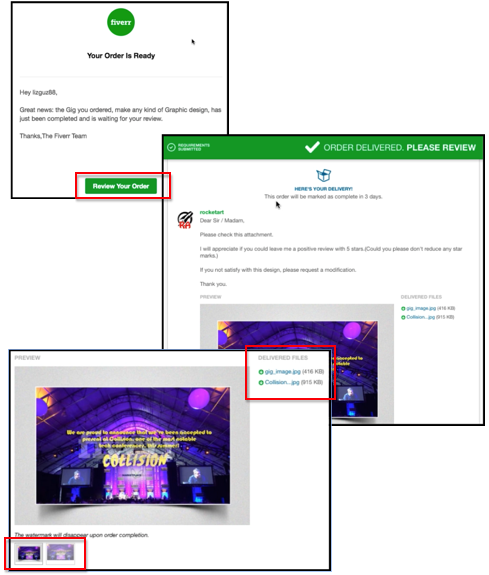 Requesting a Revision
If you are not satisfied with the deliverable, you have the option to request a revision. Some gig providers charge an extra fee if more than one revision is required, but some offer unlimited revisions. It all depends on the gig provider's terms or the package you selected.
To request a revision, click on "Request Revision" on your order page. This will prompt you to provide revision instructions for the gig provider. You'll also have the option to attach any supplemental files on the revision request. Once you've filled out all necessary instructions, you'll click on "Submit Request". The gig provider will contact you via email once they've completed the revisions and your order is ready for review. Once you're satisfied with your order, you'll click on "Accept & Review Order".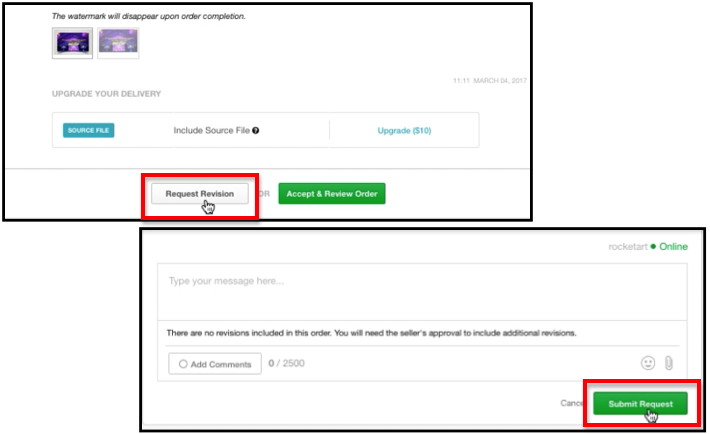 Rate & Review the Gig Provider
Before the final checkout, you'll be asked to rate and review the gig provider for their service. Ratings and reviews are critical and valuable because it helps them stand out amongst the many other gig providers on the site: the more positive reviews, the more gigs they will book. You'll click on "Publish & Continue" once you've completed rating and reviewing.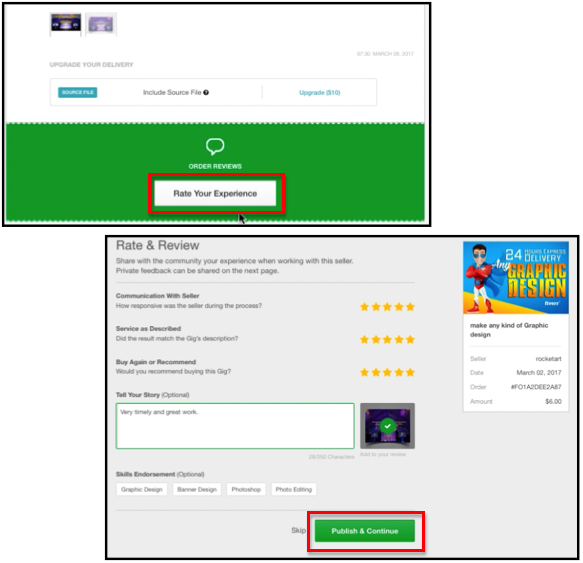 You'll also have the option to tip your gig provider to show your appreciation further. Leaving a tip is optional and not a requirement.


Final Checkout
To complete your transaction, you'll click on "Place Your Order", which will take you back to your order summary. If you want to view your invoice, you'll click on "View Invoice", which will open up another tab with a copy of your invoice.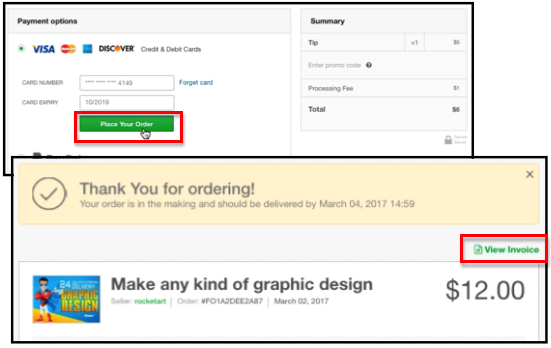 One item on the invoice that is worth mentioning is the $1 processing fee. Fiverr charges this fee to cover site maintenance and admin fees. Per Fiverr's terms, they charge a $1 processing fee on all transactions that are $20 or less and 5% on all transactions that are more than $20. This is a common monetization method that many marketplaces use to make additional funds to maintain their site. (Let us know if you want to add this to your Marketplace, as the buyer pays this fee and can be added to a percentage of the sale from the service provider side.)


The Final Image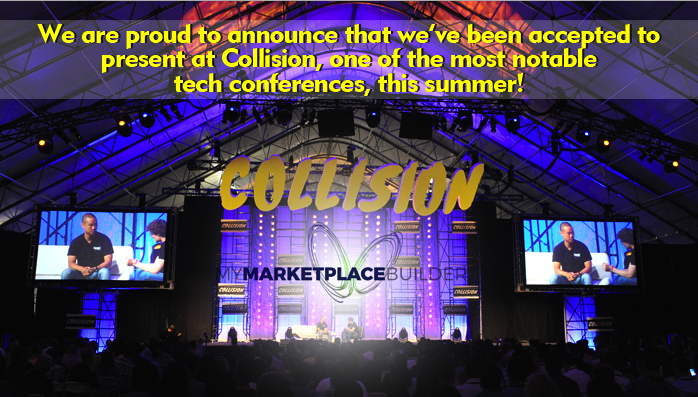 See how simple and painless it is to use Fiverr? Think of all the things you can get done for your business in a short amount of time for just $5! Fiverr is a profitable and valuable marketplace with tons of users, so talk to us if you have a marketplace idea like Fiverr!