How A Marketplace Plays A Role In An Ecommerce Business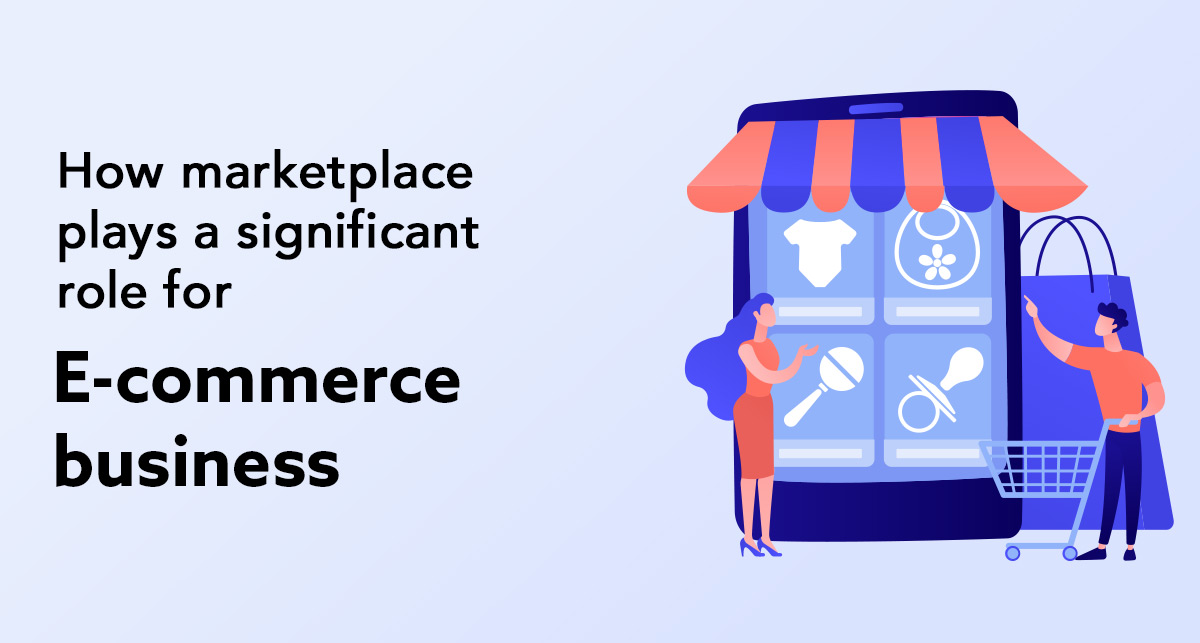 The Internet has become an essential part of our lives now. Gone are those days when businesses were completely operated offline. When the internet got involved in our day-to-day activities, people started looking for products and services online. Businesses started shifting to online platforms and published ecommerce business websites. With the evolution of digital marketing, shifting to an online platform doesn't fulfill the business goals. When you are into selling something, it becomes mandatory to have an ecommerce platform to strengthen your online presence. But alongside, you need to utilize online marketplaces to ensure not to miss any potential opportunity to earn profit. 
What is an ecommerce marketplace?
An ecommerce marketplace is an online platform (an app or website) where multiple vendors, shops, and individuals flash their products for sale. The marketplace owner takes care of the advertising and transaction pieces while third-party vendors are responsible for manufacturing and shipping.
Ecommerce marketplaces play a significant role for ecommerce businesses in many ways. They help sellers reduce their costs and make the operation process easier, leading to benefits for the sellers. They help customers feel safe transacting on marketplace platforms and can quickly find the best deals that they are looking for.
Below are some of the benefits a marketplace provides to an ecommerce business:
1. Boosts sales
A marketplace drives more footfalls than a random website can. Users spend more time on the marketplace platform, which results in the purchase of products. Users may come to the platform without any intention of buying, but after exploring products, they may buy any of the products. This process is difficult for stand-alone websites. Marketplace boosts sales of products with more traffic and new customers regularly. 
2. Low start-up cost
An ecommerce marketplaces setup requires less cost than setting up a physical or virtual store. A marketplace has every facility to sell the product, and the retailer has to spend for a few. Charges like a monthly subscription to sell products on the marketplace and listing fees are minimal expenses that you have to do. Marketplaces also promote their platforms, and there is no need to spend money on promotional activities for your products separately. 
3. Higher conversion rate and improved growth
Marketplaces have many views, and your product's visibility is high when your business is listed on it. If you set up your own website and spend regularly advertising it, it may not give you the same number of visitors. More visibility results in a high conversion rate and helps your business to grow.
4. Business operations made easy
Listing products on the marketplace helps in easy business operation. Sellers who are on the ecommerce marketplace can ask the marketplace to hold the stock. The overall operation process is taken care of by vendors and the marketplace. Pay a certain amount of fee and enjoy easy and smooth operations.
5. Improves trust level among the buyer
When trust plays a crucial role in any business, users find the marketplace trustworthy than any random business website. When a product is listed under the marketplace, it gains user attention and motivates the buyer to make the transaction. The transaction procedure is way more secure than any other form of payment option. More trustworthiness helps in high sales and revenue earning.
6. Sell beyond territories
A multi-vendor rental marketplace helps the business reach global customers with fewer expenses. As a seller, you can access more potential customers throughout the world, which helps you grow more and earn high sales and revenue.
7. Anytime is business time
When an ecommerce business ties up with a marketplace, they can operate their business round o'clock. No need to stay awake to stay ahead. You can receive orders even when you are not operating. Placing an order to deliver them – different vendors take care of everything, which is actually a pro point. 
To conclude
A marketplace is blissful for an ecommerce business that wants to operate at a low cost and expect a high return. It is a safe place to perform selling and buying with more security for both sellers and buyers. 
Rental Marketplace Platforms offer an immense opportunity to businesses, large or small. It is easy to list your business on a marketplace platform and create a special identity of your own. Providing safe and exceptional shopping options to the end-user strengthens your brand name and returns huge revenue.
Reach out to the best rental marketplace builder: MyMarketplaceBuilder, to know more about how to start with a marketplace. Book a meeting with our team- We provide solutions for all levels of entrepreneurs and business owners.